Hi Guys ... thought it would be much easier to just post here rather than try and do a dozen smaller What's App messages! I managed to transmit the beginning of the message via Whats App but mobile phone reception and the Internet is not great where I am currently located, farm sitting in regional Vic, So I'm just going to post here, while I have online access.
This is also a good place, here in our Buddy Group space on the Forum, to collate together some of the things that we will be discussing over time. Could be good to create some different topic headings so that it will be easier to return to, to read or add more thoughts or content in the future.
T x
Hello ELF Buddies. Hope you are all keeping well.
I was just thinking this morning, about our group work, sitting here on the edge of a forest, on the far end of summer, where I am currently farm sitting in regional Victoria, listening to the beautiful warble of the magpies and watching the cockatoos and lorikeets fly down to drink from the bird baths in the garden and the nearby dam.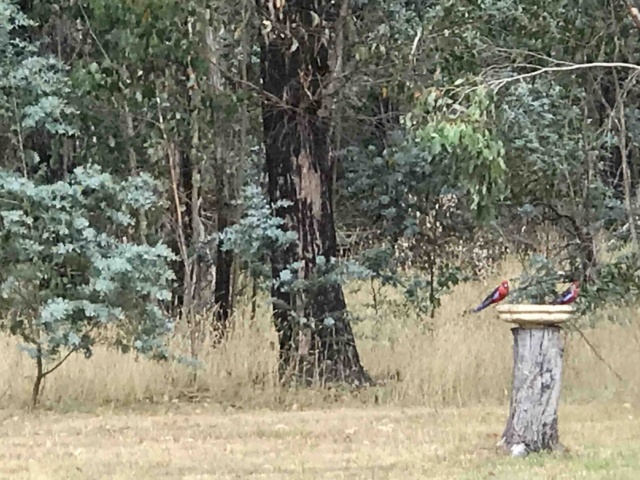 To help with "the documentation of our collective journey" …
If anyone would like to add to our Group Mural, could be a good idea to continue contributing our thoughts, following our Buddy Group discussion last Sat. If you have time before the next session or to revisit beyond that, incl future Buddy Group sessions. The Mural space is a great virtual option for us to be working with.
I believe the ELF facilitators are keen to get an insight into what we have taken away from the presenters' work and the Collaborative Inquiry Process so far, as well as what arises out of our group discussions. So it may be good to jot down some feedback relating to our recent Buddy Group conversation while this is still fairly front of mind.
I recall the words of an Indigenous man in central Australia who said to an Italian anthropologist, who was there to do some research: "Start with yourself … what brings you here?" It is a useful starting point for self reflection as well as sharing.
I really enjoyed the chance to get to know you all a little better – your interests and inspirations, how you practice self-care and what brings you to this work. Perhaps we could play with some headings along those lines and add some key points? I was impressed by how creative and artistic you all are! And I look forward to seeing some of your unique and creative work.
Pranathi I love the sound of your dance work and the embodiment and self expression that you describe. I love the way that you perceive and express things so fully. Very kinesthetic – like an extra sense! And Patrick and Supriya, your love and use of poetry, music, sound and song really intrigue me. I hope that we will get the chance to listen to some of your creations at some point. I too, will be happy to share some photos and writing – which are my two main forms of creative expression.
I have made some notes to find out more about the people that you each mentioned as inspirations. So if you have any weblinks or articles that you'd like to share (thanks Patrick for the yam one, and Supriya for the link to the podcast with Robin Wall Kimmerer), could be good to add details to our Group Mural page or our Group Buddy Page on the forum that Supriya has started for us.
It was interesting to recognise some common interests that we all share too, especially in the social/environmental/cultural space and in terms of Indigenous knowledge and practices. It will be good to explore these further over time, and to continue to exchange information and ideas.
Re the Mural space, it could also be good to reflect further upon:
• The work of Danielle and Ashish, while their writings and presentations are still relatively fresh in our minds, before we start to shift focus to the work of the next presenters in the lead up to next week. For example, what are our thoughts on the topics that Danielle and Ashish covered and also what did the content evoke within us (ie head and heart)? What influence might this have on our own work and lives in moving forward, on our learning journeys about ecocentric perspectives etc?
• Our thoughts and feedback on the Collaborative Inquiry Process, our readings about it, Lakshmi's presentation and our discussion amongst ourselves.
• And perhaps even a canvas for adding thoughts on the initial readings (from the start of the forum) would also be useful? Patrick I'd love to learn more about your experiences with John Seed, which you mentioned briefly another time.
I will create some 'blank canvases' so that people can add their individual responses if they would like to … and we could also look at collating a 'synthesis' response for the different topics for our group, drawing from the key elements of our personal feedback? I'd be interested in your thoughts about that approach. I'm thinking along the lines of the 'collaborative inquiry process' in ensuring that each person has their own unique voice but in adding it to the chorus a different song is created compared to just flying solo.
I'm a bit pressed for time this w/e but I will look to add some more personal reflections on Mural next week when I get a chance. At this point I have just jotted down some quick 'notes to self' to return to later and some 'blank canvases' and topic headings to add a bit of a loose structure for encouraging contributions.
Totally understand if you want to step away from the forum this week and just have a break but the invitation is there to add some notes if you feel called to do so at some point. And we will just see what arises in the shared space.
BTW I have also added:
- An overview of the agenda we discussed (thanks Supriya for the suggestions)
- Some brief comments about our thoughts on the 'Agreements / Commitments /Values' and 'Guiding Q(s)' docs, to reflect that we have considered them further as a group and will continue to work on them over time as the forum and we as a group evolve.
- And finally, I've started a section at the very bottom relating to co-creating a group name, and I've added some of the suggestions so far that have been put forward. This was something that we were invited to do as a group and I thought it might be good to reflect that in the workspace too, to help lead on to 'the next step' of making a decision when we have a chance to discuss further … it's also a nice simple eg of the collaborative inquiry process and group synthesis.
Good to document and illustrate visually that we are making some progress on all fronts and to also provide an insight into how we have been considering the content, and what is coming to light for us as individuals and as a group. It is a great idea to be recording our 'work in progress' and our co-creation of content as part of our collective journey upon this path.
Kind Regards – Tess
Here is the link to our group mural page …
MURAL PAGE FOR BUDDY GROUP 6
https://app.mural.co/t/ica1366/m/ica1366/1643703615675/8ca9b836a7bb03bc622a734c401a24fb7a0100d8?sender=ufcdcb66c642a94c983fa9076